These days seem to blur into one another don't they?… It only seems like last week that I was finishing up at school and my holiday break was about to begin…. No more reporting, no more programming, no more phone calls to/from parents, no more dealing with the politics or misunderstandings in the workplace and no more massive days at school, organising performances, presentations, exhibitions, touring shows for the school bands or work related sundowners. But what do you know!…. The holidays are just about over, and yet again I didn't get everything done that I had hoped…. Obviously the clutch giving up the ghost on the POS was not planned for, and I hadn't really planned on making a start of the Ghia either, but ya know what?…. I'm pretty stoked to get into both…. The new clutch in the POS will handle the power the engine is producing with ease… Looking forward to hitting the track real soon…. And the Ghia is getting closer to back on the road, and that has got to be a good thing…. I'll update you all on both of those cars next month…. But for now, lets recap on the last couple of months happenings.
First up…. I'd like to congratulate the DoVW show winners…. Many of which are NoH2O members…. Below are a selected few…. Be sure to check the winners thread in the events section…. Well done do all the class winners…..
Best Type 1 Beetle Standard pre '67………. Colin Seth
Best Type 1 Beetle Modified……….Sean Duffin
Best Type 2 Kombi T1 Commercial………..Peter Kopic
Best Type 2 kombi T2 Commercial……….Patrick Spiteri
Best Buggy Modified……….Sean Jones
Best Rat Look…………Graham Tibbs
Presidents Choice………….Bernie Brix
Judges Choice………..Dave Moore
Other stuff in the pipeline is pretty interesting…. Our boy Reub has got himself another aircooled project…. This time round, he's messing with a car that has become something of a harlot within the collective…. I gave him the Paprika.
Working slowly through the bits I have for the car, a heap of nice stuff Reub has left over from his old 58, and a good scrub, the car is looking heaps better already…. Plans are to pull the body from the pan in the very near future, and get Johnno to wave his magic rust remover wand across it…. This should go a long way to getting the car back on the road in a mildly modified but but essentially stock state…. Looking forward to seeing what happens next.
I've been doing silly things to my cars lately too… I started on the new Super Street pan for the POS….. First a massive 18mm pie cut was done to the front end to give me about 10º of caster…. Then I cut the off the torsion housing and started on the narrowing and lifting of the rear suspension…. This sucker is gonna be mad.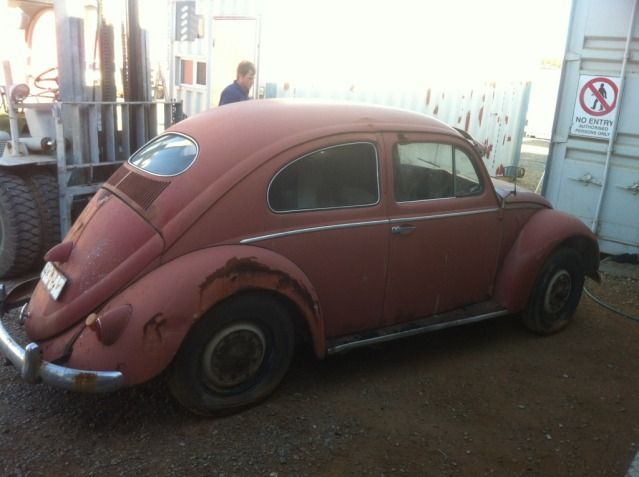 And finally we have Jimmybay's very sweet Paprika Red Oval… It's a fantastic story of the best kinda…. A very low buck reno, with massive efforts on the part of the owner… Jimmy has taken to it with big-time elbow grease and panel hammer, plus all the usual mechanical overhaul stuff… The net result is an amazing looking ratter… Be sure to check it out.
That'll do for this month…. Will catch you later!
Posted in
Uncategorized
~ You can follow any responses to this entry through the
RSS 2.0
feed. Both comments and pings are currently closed.