Thursday, November 25th, 2010
Dang!… Seems like it was only yesterday that the collective's premier event was on, but it's been over two weeks now…. I'm still on a high from it!… Over 100 VW's turned up on the day, many cars we have never seen before, and also plenty of the regulars…. The Munster boys put on a good showing as always…. I noticed a number of Munster Garage 'customer' cars in attendance also!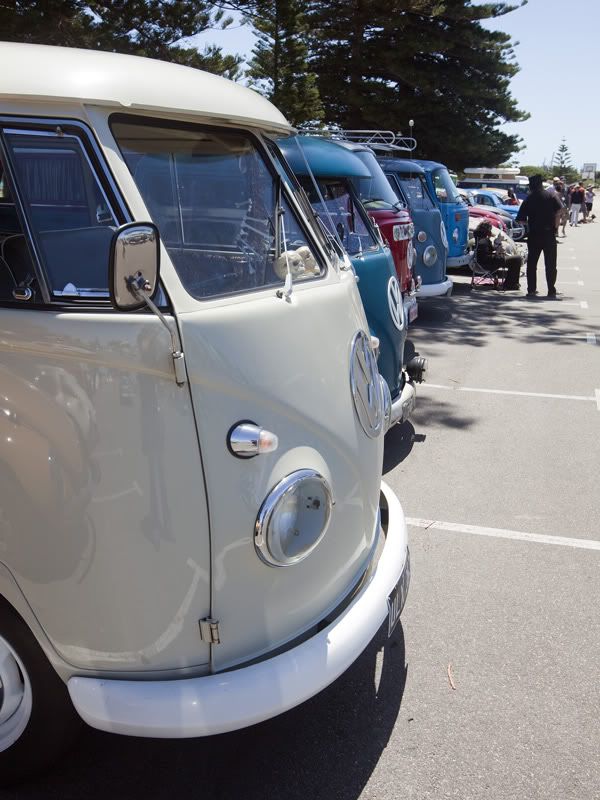 Feedback has been very good…. From the general punters in the street who got to see VW's of all shapes and sizes, the Freo Council, the festival event participants and of course, all of you guys…. I thank you all for your support and encouragement… Comments on the day and since, have been extremely positive… The Freo Council want us back, there was absolutely no troubles on the day, all the event managers got stuck in and helped where needed and all said they're looking forward to the next one…. The venue was amazing, with over 100 VW owners and their families in attendance, the day provided a massive variety of entertainment…. The kites, the clear blue skies, the vintage barnstorming aerobatics, the parachutists, the live entertainment, I tell you, it's gonna be real hard to top it next year!!!!… There are some great shots that have been posted by Jean, Mozzie and Joel and few others of the day…. If you haven't had a gander at them yet, be sure to have a look… There's some in the "Events" section and some in the "What's up" section…
Next up I would like to remind everyone of the pending "Day of the VW" at Burswood next month…. As is usual, the VW Club of WA are pulling out all the stops to bring us yet another fine event… And don't forget…. NoH2O are continuing the tradition of hosting a pre-event cruise to the show, leaving Vic Park Shopping Centre carpark…. For those of you that live south of the creek and close to the coast, we will most likely have a pre-pre-event cruise leaving my place once again….. We had over 20 VW's at place last year…. It was huge!!!!
Let me know if your up for it!