Monday, February 28th, 2011
That's right folks…. January is all but over…. And what I hear you ask have I got to show for it….. Nothing actually… My VW world has been very quiet…. Fortunately you lot have been doing what you do, to keep the dream alive….. Josh has been good enough to let Hoodwink move the bus into his yard and help Hoody get the PV closer to completion….
This old girl is looking mighty fine…. The story is awesome, this build has been tough, but the outcome is looking amazing…. Check out his projects thread (he's got a few!) for more deets….
Other projects coming to the end of the very long restoration road, is Steff's Turkis Bus….
You gotta see this thread, it bloody awesome!…. A massive build thread to be sure…. And one not to be missed.
Something else….. Wanna see a Bug?…. I got a couple for you….. First up is Just's beige roller….
I have seen this car come through a huge amount of work… Just must be congratulated for putting this car together…. The budget was low, the free time was next to nil, the space was an open carport, but the man has pulled it off…. Awesome streeter Just…. You should be stoked!
And finally we have Deano's red roller…. My god what a transformation!!!!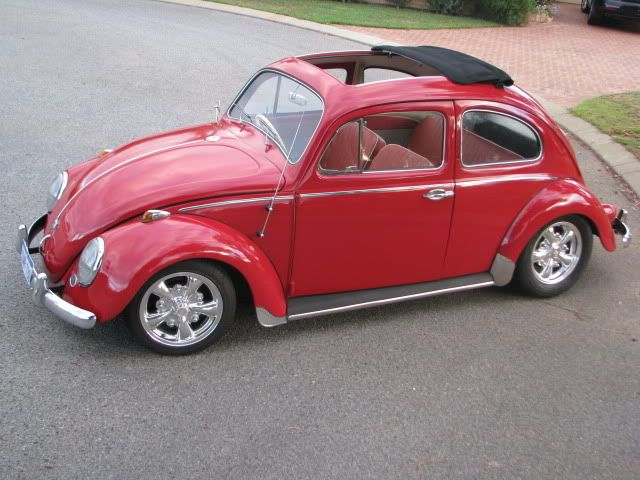 That'll do…. Enough of the car stuff…. I'll close with a few events tips…. The Fairbridge Festival is coming,  the Classic Car Show at Whiteman Park is just around the corner, and finally the BugIn is nearly upon us… All these events are shaping up to be huge…. I'll make the national cruise from Melbourne to the BugIn here in Perth, and hope to make a few of the events over the Easter weekend…. Fairbridge is lined up too…. Just need to buy the tickets…. Dunno about Whiteman Park…. I'm sure the contingent will make a good showing.
I'm sure your all rev'ed for this coming season….