Sunday, May 29th, 2011
Yes folks, that's right…. It's winter time…. Or in classic car parlance…. Time to get the tools out!
So out they come, for me at least…. That's right folks… I have bought yet another project…
And boy does it need some work!… I wont bore with the details here, just be sure to check out the 'build thread' so ably created by deadkombi in an effort to get me to spill the beans. Also…. The POS is getting a new turbo charged heart, disc brakes on the front, dual circuit MC, electric demister and some new heater channels this winter, along with some EFI and rego…. So looking forward to that one being back on the road.
And I'm not the only one doing stupid things and buying another car…. I hear Maharg has bought a pommie POS, Dave has got something new to tinker with, and Buk is up to something new…. Speaking of new…. Check out the Munster Garage's new shop truck…. Norm is a 8 week wonder, that will prolly take a little more than 8 weeks to actually complete, given the fact that guys actually have a business to run… But don't let that stop you from being totally amazed by the amount of work being carried out and the speed in which it is being done…. Amazing effort!
What else is news?…. Got a new batch of t-shirts on order…. Not sure on pricing yet, but the quality is a little higher than the last lot and these are on coloured shirts this time…. Also have a laser cut NoH2O bumper plate being prototyped at the moment…. These are kinda like the old RAC shields that peeps used to fit to bumpers and grills back in the day…. Hopefully have something to show you all in the next few weeks…
Earlier this month Buk hosted a swapmeet in the parking lot of his workshop, in downtown South Freo….
BJ took some awesome pics on the day…. Be sure to check them out in the event coverage….. A great afternoon was had by all, with many a call for another to be put on real soon…. Not sure how soon, but be sure to stay tuned….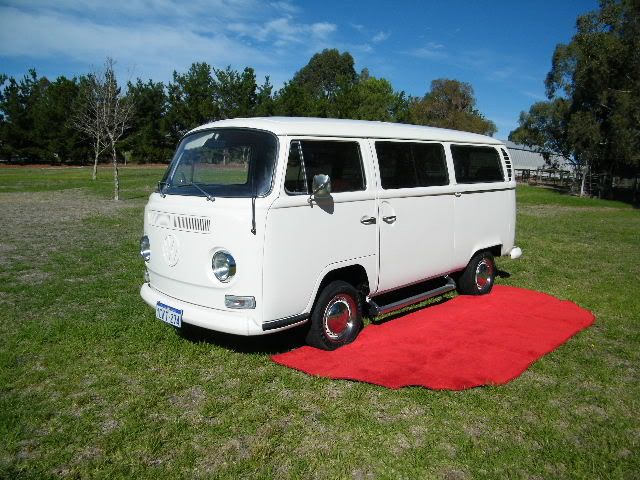 Finally I'd like to show Kev the Trimmers new enterprise… A fully functional and legal wedding VW Bus coach…. Something that has been long overdue here in Perth…. Obviously, the trimming in this bus is awesome…. Can't wait to see this one in person!….. Imagine a full stretched limo built to this standard?…. The expense would be huge, but you never know… If this works out for Kev, we could possibly see a stretched low-light being built to accompany this jem in the near future….
All the best…